As summer casually approaches, thousands of Nova Scotians begin to daydream about putting for birdie at Cape Breton Highlands Links, dining on freshly-netted lobster, and exploring Cape Breton Island's various landscapes. And, of course, the preferred form of exploration for guests here at Keltic Lodge at the Highlands is a good, old-fashioned hike into the "unknown." Cape Breton Highlands National Park is revered for its awe-inspiring coastal lookouts, backcountry lakes, and densely-thicketed forests. Thus, a Cape Breton hiking excursion typically sits atop most traveller's mid-summer Nova Scotia bucket list.
The Top 5 Cape Breton Hiking Trails
After savouring a plate of delicious (and beautifully-plated) eggs benedict, set your sights on the vast wilderness that sways with the wind outside of your suite's window. To ensure that your mid-summer escape to Keltic Lodge is nothing short of flawless, we've compiled five of the most beloved Cape Breton hiking trails, all of which are a short drive (or walk) from the property. So, laces up your boots, fold your map, and trek into the province's prettiest national park.
This list has a little bit of everything: waterfalls, beaches, mountain overlooks, and cliffside trails. That being said, none of them can top the sheer beauty of Franey Trail, a 7.2-kilometre loop that rolls along a jagged, breathtaking valley. Franey Trail, as you can imagine, is quite popular during autumn's peak.
Guests can pick up Middle Head Trail on the eastern edge of the property. It's a mostly flat jaunt, so it draws the attention of nearly every age group. The trail meanders down the heart of the peninsula, but there's ample opportunity to explore the many coves that line the cliffs. A couple of islands, most notably Steering Island, are visible from the trail.
For those with a special place in their heart for towering oceanic waves, don't omit the Coastal Loop from your Cape Breton hiking itinerary. This free-flowing, 1.9-kilometre loop features four distinct Atlantic Ocean lookouts, many of which sit atop towering rock formations several feet above the sea.
A visit to Mary Ann Falls only requires about 20 minutes of your day. However, during the summer months, a lot of thrill-seekers saunter into the pristine pool of spring-fed brook water at the base of the fall for a refreshing soak with friends new and old. The waterfall itself is quite beautiful, and, during dry spells, a lot of adventurers climb the fall to its peak.
The final stop on our self-guided Cape Breton hiking expedition is Lake Warren, a quiet, backcountry hidden gem with the quietest beach on the province. Not a lot of travellers know about this secluded lake or its restorative powers. With minimal elevation gain, Lake Warren is definitely a locale that the whole family can agree upon.
Historic Cape Breton Resorts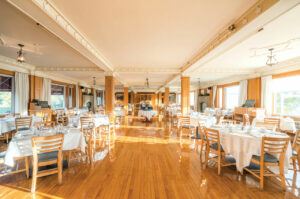 Most guests combine a half-day of Cape Breton hiking with 18 holes on the Links, dinner inside the Purple Thistle Dining Room, and drinks at dusk on a private deck. Keltic Lodge at the Highlands, which opened its doors in 1951, remains one of the top-reviewed Nova Scotia resorts. We pride ourselves in offering a unique blend of luxury, sophistication, and convenience, with a touch of adventure. Book your long-overdue getaway to the Cabot Trail now!